Last updated on January 31st, 2018
In sad news for me, MoviePass is no longer supported at the closest theater to my office (Cinépolis Chelsea).
Although I didn't see any movies there with MoviePass, the idea of shuffling over there on a slow afternoon was very appealing.
I also didn't realize that Landmark cinemas didn't take MoviePass when I went to see Hostiles there.
So when I saw Hostiles at Landmark Sunshine I had to pay full price. That doesn't matter for MoviePass too much, as unbeknownst to me, that movie theater closed two days after I saw Hostiles.
Nevertheless, I live in NYC and there are theaters practically everywhere. So, for now, the MoviePass adventures go on. And, I'm way ahead so far.
But if MoviePass is not your style, there is now a competitor called Sinemia.
Sinemia costs more than MoviePass and allows you to only see two or three movies a month depending on your plan (2 movies costs $11.99 a month and 3 movies costs $16.99 per month).
But Sinemia does have some advantages over MoviePass:
Sinemia allows you to go to any theater. They say "any theater, any day, any showtime, any movie."
You can see 3D, IMAX, 4DX and any other type of movie with Sinemia.
You can sign up for an "And One" plan that allows you to bring another person to the movies with you. ($22.99 per month for 2 movies and$32.99 per month for 3 movies).
You can buy tickets advance and online.
For me, MoviePass is the better option. But if you see lots of 3D or IMAX movies, are not monogamous in your movie dating, or like knowing that you will be able to buy a ticket for a particular movie at a particular date and time, Sinemia could be the better value. IMAX and 4DX movies can be very expensive, so it could end up being a very good deal.
But now, on to the movies!
This round covers the following Movies:
Hostiles
Paddington 2
The Shape of Water
The Commuter
Call Me By Your Name
Hostiles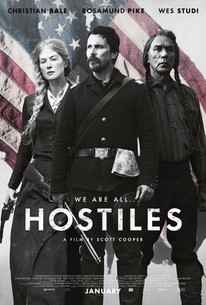 Date Seen: 1/18/2018
Theater: Landmark Sunshine
Admission: $15 (not covered by MoviePass)
Rotten Tomatoes Score: 72% Critics, 72% Audience
My Thoughts: I enjoyed this movie, although I am a big Christian Bale fan. The opening scene could be unsettling for people with young daughters. But I thought it was a nice Western storyline with just enough shoot-'em-up scenes to be entertaining without being all about shootin'-'em-up. You probably can wait for it to stream though.
Paddington 2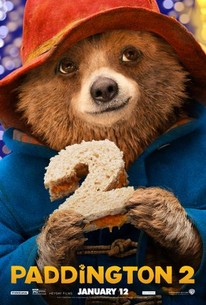 Date Seen: 1/19/2018
Theater: Cobble Hill Cinemas
Admission: $12
Rotten Tomatoes Score: 100% Critics, 90% Audience
My Thoughts: Paddington 2 is the best Rotten Tomatoes movie in history, in that it's received the most "fresh" tomatoes without receiving any "rotten tomatoes." (The previous best was Toy Story 2). I did not see the original Paddington, but that did not take away from me very much enjoying Paddington 2. Hugh Grant is a delight as the villain. As one Washington Post Reviewer (Stephanie Marry) put it "Could it be that Hugh Grant was born to play a villainous dandy in a kid's movie?" I promise I used the word "delight" before reading her review. You probably don't need to see it in the theater, but don't be embarrassed choosing it on a flight.
The Shape of Water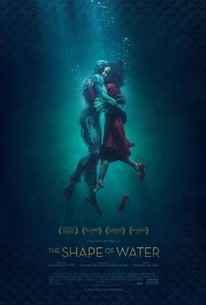 Date Seen: 1/22/2018
Theater: Alamo Drafthouse Brooklyn
Admission: $16
Rotten Tomatoes Score: 92% Critics, 79% Audience
My Thoughts: The Shape of Water was pretty much the same movie as Paddington 2. In both movies, a CGI creature from South America is imprisoned for being in the wrong place at the wrong time. And a woman played by Sally Hawkins attempts to set them free while her male companion thinks her crazy for doing so. (If you'd like to sign up for my comparative cinema seminar, please e-mail me). Of course, these movies were very different. It was very jarring to see Sally Hawkins go from being the best friend of a bear to getting off in a bath tub. I liked the movie. I didn't think it was great, but enjoyable. And if you like going to the movies, it would be a nice one to see in the theater. And, then you can debate with your friends, "Would you do it with the fish man?" (h/t R.G. Dower III).
The Commuter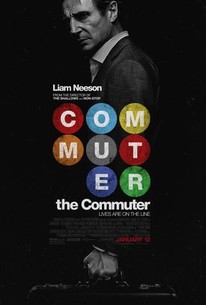 Date Seen: 1/26/2018
Theater: UA Court Street Cinema 12 & RPX
Admission: $16.40
Rotten Tomatoes Score: 58% Critics, 48% Audience
My Thoughts: It's Taken meets Murder on the Orient Express meets Speed meets Spartacus! Ok, it's not really that at all. It's just a bad movie that makes no sense. I suppose if you really loved the movie Phone Booth, you might like The Commuter. But even Phone Booth was a better movie than this. It's always fun to watch Liam Neeson save the world, but if you're looking for Taken, this won't satisfy you. Maybe just have it on in the background while you're trying to fall asleep on the couch.
Call Me By Your Name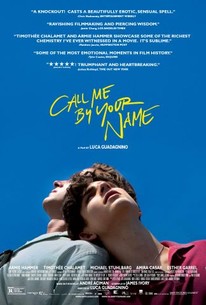 Date Seen: 1/28/2018
Theater: Alamo Drafthouse Brooklyn
Admission: $12
Rotten Tomatoes Score: 96% Critics, 87% Audience
My Thoughts: This movie was a little slow for me, but a nice tale of a love story between a closeted (perhaps? possibly openly bisexual?) homosexual man (played by Armie Hammer) and a coming-of-age homosexual young adult (played by break-out star Timothee Chalamet). The scenery makes me really want to go to Northern Italy.  And, as is usual for me, I really like the scenes where Armie Hammer's character is caught-up in dancing to his favorite song. Maybe given the climate of Hollywood, they should have had Chalamet's character be already technically of-age, while still being innocent. And, I thought the speech by the father at the end was a bit over-the-top, but others, I hear, loved it. It was fun to see in the theater given the amazing landscape.